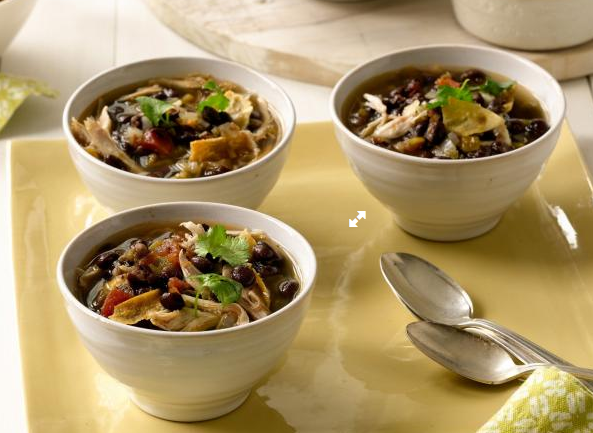 Ingredients:
3 chicken thighs, skin removed
10 ounce can diced tomatoes
green chiles
1 1/2 cups cooked black beans
1 1/2 cups chicken broth
1 1/2 cups water
1 yellow onion, finely chopped
3 garlic cloves, finely minced
1 jalapeno, finely chopped
1/2 teaspoon ground cumin
1/2 teaspoon chili powder
Juice of 1/2 lemon
20 tortilla chips
3 tablespoons finely chopped fresh cilantro
1/2 cup shredded Monterey Jack cheese
Directions:
Place the chicken, tomatoes (and juices), beans, broth, water, onion, garlic, jalapeno, cumin, and chili powder in a slow cooker. Cover and cook on high for 3 to 4 hours or on low for 6 to 8 hours.
Uncover the slow cooker and use tongs to remove the chicken from the pot. Once cool enough to handle, remove the meat from the bones and shred, then return the meat to the pot. Stir in the lemon juice. Crumble a few tortilla chips into each bowl and cover with some soup. Serve sprinkled with cilantro and grated cheese.