In honor of World Hepatitis Day (July 28th), NY Top Docs reached out to our reviewed and approved healthcare practitioners to learn the the Hepatitis, A,B, C's.
For those who are unaware, Hepatitis is a disease that causes liver inflammation. The most common types of viral hepatitis are Hepatitis A, Hepatitis B, and Hepatitis C.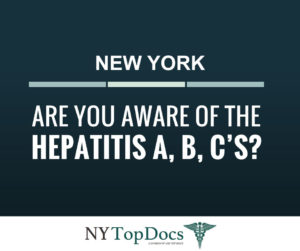 A
Hepatitis A is a very contagious liver infection that can last for a few weeks to a few months. Usually, this virus is spread when someone ingests food or drink that has been contaminated by feces of an infected person. This infection can be easily prevented with a vaccination – which is recommended for all children 1 year of age and older to receive.
B
Hepatitis B is a liver disease that occurs when infected by the hepatitis B virus. Unfortunately with Hepatitis B, if an infant is infected, the infection can lead to chronic or lifelong illness. This hepatitis virus is typically spread when blood or other bodily fluids from an infected person enters the body of someone who isn't infected.Typical infections occur through sexual transmission or if an infected mother gives birth, the infection can be passed to the child. Hepatitis B is also treatable through vaccination.
C
Hepatitis C, a liver disease that occurs when infected by the hepatitis C virus is 5xs more likely to affect the baby boomer generation than any other generation. Most people who are infected by Hepatitis C develop a chronic infection, causing serious liver problems. The virus is usually transmitted when blood of a person who's infected enters someone who isn't infected. This can happen by sharing needles or other intravenous drug injectors.
Research is constantly being performed to find treatment options and cures for Hepatitis.
If you or someone you know wants to talk to one of our reviewed and approved healthcare providers about Hepatitis, please click here.
---
---
About Us
NYTopDocs.com is a comprehensive, trusted and exclusive  healthcare resource featuring reviewed and approved Top Doctors and Dentists in the New York area online in an easy to use format. NY Top Docs only reviews and approves providers based on merit after they have been extensively vetted.
NY Top Docs is a division of USA Top Docs which allows patients to meet providers online before making their appointment.
For more information, e-mail us at [email protected] and/or visit www.NYTopDocs.com.