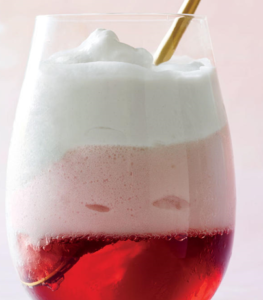 Ingredients:
2 envelopes plus 1/2 tsp. unflavored gelatin
4 1/4 cups chilled no-added-sugar cranberry-pomegranate juice blend, divided
1/2 cup cold heavy cream
1/4 teaspoon vanilla extract
Directions:
Pour 2 envelopes gelatin over 1 cup cold juice in a large bowl; let stand 5 minutes. Heat 3 cups juice in a microwave-safe dish at HIGH for 3 to 4 minutes or until scalding hot; pour over gelatin mixture, stirring until dissolved. Pour 1/3 cup of mixture into each of 6 glasses, reserving remaining mixture. Refrigerate 15 minutes.

While gelatin chills, place bowl with remaining gelatin mixture in a larger bowl filled with ice water. Vigorously whisk mixture until it becomes a dense, pale-pink foam and no liquid remains (about 10 minutes). Evenly divide foam among glasses. Chill 30 minutes.

Place remaining 1/4 cup juice in a small microwave-safe dish; sprinkle with remaining 1/2 teaspoon gelatin, and let stand 5 minutes. Microwave mixture at HIGH 1 to 1 1/2 minutes or until gelatin is dissolved. Cool.

Combine cream and vanilla in a bowl; whisk just until the whisk begins to leave trails in the cream. Add microwaved gelatin mixture in a steady stream while whisking; beat just until soft peaks form. Evenly spoon cream over foamy gelatin layer in glasses; chill 2 hours or until all layers are thoroughly set.