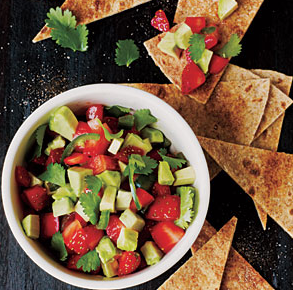 Ingredients
2 teaspoons canola oil
6 (6-inch) whole-wheat flour tortillas
2 teaspoons sugar
1/2 teaspoon ground cinnamon
1 1/2 cups finely chopped peeled ripe avocado (about 2)
1 cup finely chopped strawberries
2 tablespoons minced fresh cilantro
1 teaspoon minced seeded jalapeño pepper
2 teaspoons fresh lime juice
3/8 teaspoon salt
Preparation
Preheat oven to 350°.
To prepare chips, brush oil evenly over one side of each tortilla. Combine sugar and cinnamon; sprinkle evenly over oil-coated sides of tortillas. Cut each tortilla into 12 wedges; arrange wedges in a single layer on two baking sheets. Bake at 350° for 10 minutes or until crisp.
Combine avocado and remaining ingredients; stir gently to combine. Serve with chips.