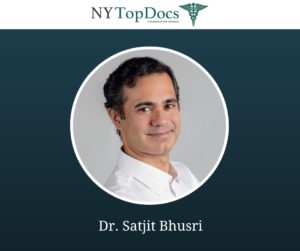 Dr. Satjit Bhusri Has Been Reviewed & Approved By NY Top Docs
NY Top Docs has reviewed and approved Satjit Bhusri, MD, FACC of Upper East Side Cardiology based on merit for 2023. Dr. Bhusri is a Cardiovascular Disease & Vein Specialist located in Upper East Side, New York, NY. Both a compassionate and highly skilled cardiologist with nearly 15 years of intensive study and training, Dr. Bhusri provides only the best to his patients. 
In 2015, Dr. Bhusri suffered from Cardiac Shock and was hospitalized for a month in Intensive Care. He was given only a 20 percent chance of survival and survived. At this moment, the doctor became the patient and with a strong network of top physicians and supportive family, he healed. This experience became the cornerstone of his life and made him a more mindful and healthy person, physician, husband, and father. His hope is to share this experience with his patients as he helps them to become more mindful and healthy in their lives. 
At his state-of-the-art practice in New York City, Dr. Bhusri and his staff offer patients access to top-of-the-line diagnostic tools like echocardiogram and stress testing. Patients also receive personalized and comprehensive treatment plans for a variety of cardiovascular problems, including chest pain, heart failure, hypertension, palpitation, and varicose veins. Remote care monitoring is also available.
The expertise that Dr. Bhusri brings to his field has been featured in Forbes, NBC News, CBS News, SiriusXM Radio, The New York Times Magazine, CNN, NY Daily News, Comcast, US News & World Report, WebMD, and HealthDay News.
He looks forward to meeting new patients and using his experience and expertise to find the treatment plan that works for them.
To learn more about NY Top Doc, Dr. Satjit Bhusri, please click here.
---
About Us
NY Top Docs is a comprehensive, trusted and exclusive  healthcare resource featuring reviewed and approved Top Doctors and Dentists in New York online in an easy to use format. NY Top Docs only reviews and approves providers based on merit after they have been extensively vetted.
NY Top Docs is a division of USA Top Docs which allows patients to meet providers online before making their appointment.
For more information, e-mail us at [email protected] and/or visit www.NYTopDocs.com.